Intergalactic Stock Exchange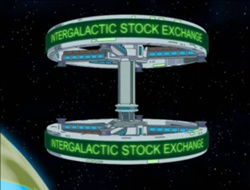 The Intergalactic Stock Exchange, located in orbit around Earth, is a place where intergalactic transactions take place.
Here, many individuals representing various systems and planets buy and sell assets that can range from food stuffs and other materials, to stocks in companies. Besides the main trading areas, there is also a Business Center for more formal stage for stockholders to vote on mergers and the like. And all events are all watched over by the master of scheduling.
( message me if you would like to be the Master of Scheduling)