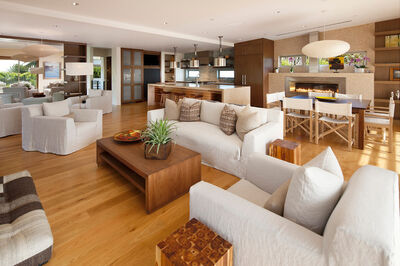 Upon passing though Carmen's private gated entry, you enter the Foyer, a spacious, welcoming area for the residents and guest or visitors. This separate entry leads past Pool House straight to Carmen's Wing, and to the main floors.
Its walls are a cream color with a white trim, and the flooring is a beige marble, the rounded table and welcoming bouquet and chandelier are items the Alsace family requested specifically still sits in the nook of the staircase leading to the second floor, the conservatory, Library, and the bedrooms. There are offshoots leading to various other areas of the house, straight under the staircase is The Cloak Room and Parlour to the left, and the Kitchen and Dining Room to the right.
Cloak Room
Edit
The Cloak Room in Carmen's Wing, is just shy of ridiculous. The room appears to be a closet or dressing room. With twin walk in closets, and coat racks flanking the two cushioned vanity mirrors, this room is connected to the Parlour. The walls are lined with mirrors, and the walk ins are so big centuries old Alsace clothes can be found from time to time.
The Parlour in small kitchen, living-room and connected bathroom, The walls of the room have a kooky pattern Carmen herself designed. The seating in the room is split into to sections, the section around a small kitchen island with cushioned leather seats, and the section adjacent to the sink and the bar separated by an (Unknown) escape door, an indoor tube transport system.
Kitchen | Pantry
Edit
The kitchen is yet another grandiose room, it is also one that Alsace decorum had less say in than most others. All though it did fill the role of Architect, it was no house interior design genius. Carmen has put the kitchen to much more use then Any Alsace ever, ever has. Carmen has had the wood changed from white to a rich, warm apple and the counters from black marble to a much lighter white, grey, and black speckled granite. She has had three kitchen island counters installed for no reason other than she likes how they look.
Dinning Room
Edit
The dining room is just beyond a double archway through the kitchen, past the pantry. There is a large glass table in the center of the room surrounded by five cushioned wooden chairs. The walls of the room are a dull teal to compliment the glass table, the floor is made from larch wood, it is not the rich warm color more dull and grey. The walls of the room also holds a family portrait of an Alsace female of every previous era.